Wilson Brothers Building
120 South Main Street
By Robert Griffith, October 2008
Noted Civil War General Grenville Mellen Dodge, whose Missouri, Kansas & Texas Railroad is responsible for Burleson's existence, sold lot 1 of block 14 to S.J. Williams on 10 October 1881. S.J. Williams opened a wooden business house and became Burleson's first Postmaster on 17 January 1882. Six months later, on 17 July, Williams sold lot 1 to H.C. Goodloe and George W. Bransom. Lot 1, and part of 2 were transferred soon thereafter to James. Lowe. James L. Dickey, who replaced Williams as postmaster on 4 August 1882, acquired lot 1 and part of lot 2 from Mr. Lowe on 7 December 1882. Dickey kept the property until 3 September 1883, when brothers H.C. and P.H. Goodloe purchased the site and began operating a grocery and dry goods store. George W. Bransom bought the lot on 8 March 1893 and acquired adjacent property on which a portion of the present-day building resides. From this site, H.C. Goodloe and Bransom operated a partnership general merchandise business.
Two fires swept through Burleson in its formative years. The Dallas Morning News stated on 21 February 1895: "Almost the entire business portion of the town was destroyed by fire this morning." Losses listed did not include Goodloe & Bransom's store, but the civic-minded pair likely shared in the suffering of their fellow businessmen.
A second fire wrought even heavier carnage on Burleson. The Dallas Morning News reported on 22 January 1902: "The principal business block of this town was destroyed by fire tonight. […] The citizens of the town quickly gathered and by prompt and heroic efforts a number of buildings in adjoining blocks were saved. The streets were piled with all kinds of goods." G.W. Bransom lost his building, valued at $1,000.
Brothers J.D. and E.M. Wilson, who erected the present-day brick structure on the property, had begun purchasing lots 1899, acquiring portions of blocks 3, 13, and 14. On 10 October 1904, the brothers bought lot 1 and half of lot 2 from G.W. Bransom, and on this site they constructed Burleson's third and largest brick structure to-date. Historian Michael H. Beard writes of the Wilsons: "Operating under the name of the "Wilson Bros. Company", they sold hardware, farm implements, carriages, buggies, household furnishings and even caskets that were manufactured on the top floor where there was a funeral parlor." And though not much is known about J.D. Wilson, listed as the "Deputy Great Commander" of the Modern Maccabees in a 1910 Dallas Morning News piece; his brother Ephram Marsh became a celebrated leader and innovator in Burleson during the first- half of the 20th Century.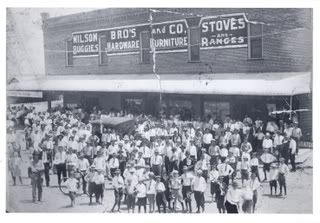 Wilson Brothers Company, Date Unknown
Photo Courtesy Mary Ruth Arnold
E.M. earned the nickname "Good Roads" advocating for roads linking Burleson to Fort Worth and Cleburne and by campaigning to include Burleson on the route of the intercontinental highway. In 1917, E.M. was the subject of an article in the Fort Worth Star-Telegram:
Fort Worth Star-Telegram
March 11, 1917
Article appears in James Franklin Smotherman, (c) 2001
By Dr. Alicia Wilkerson Smotherman

"E.M. Wilson of Burleson started his campaign for a good road from the Tarrant county line to Cleburne, June 1, 1916. Upon this date, accompanied by his wife, son Clarence, little daughter Helen and baby niece, he began his automobile tour to select the most practical route.

"For six months Wilson worked on his idea alone, putting into it the enthusiasm of conviction. He became a familiar figure wherever there was a chance to develop his idea, and with him on his many trips went the "mascot" of Burleson-Cleburne good roads, his 5-year-old daughter Helen. Wearing overalls half the time and never tiring of listening to "Dad" paint word-pictures of his vision, the little girl became known to every person in the community, including the convicts who worked on the local roads.

"December 2, 1916, the Burleson Good Roads Club was organized with E.M. Wilson, president and W.P. Lace, secretary and treasurer. A mass meeting was called at the Wilson store, and Wilson announced that he had already collected $1,000. It was decided to start work as soon as possible and to build a graveled road from Tarrant county's main cardindal road through Burleson as far in the direction of Cleburne as they could go.

"Since that date the club has assisted Commissioner Emmett Dillard and his assistant, Rastus Stringer, in building 3 1-10 miles of the best graveled road in Johnson County. This work has lifted over three miles out of black mud."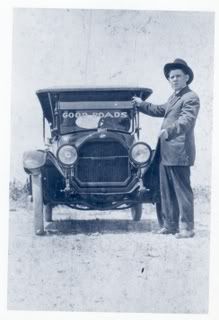 E.M. Wilson, Date Unknown
Photo Courtesy Mary Ruth Arnold
Wilson's influence in Burleson was not limited to roads, however. Beginning in 1900, E.M. Wilson began The Burleson News, moving the newspaper originated by W.B. Newton of Vernon in 1895 into a room on the east side of his modern brick structure. Moreover, the first telephone switchboard in Burleson was located on the east second floor mezzanine of Wilson's building. After fire ravaged the Burleson School on 24 September 1909, Wilson encouraged Masonic Lodge 649 to relocate to his building, where they remained until moving to the Continental State Bank Building in 1915. The Farmers & Merchants State Bank, chartered 22 November 1913, began in the northeast section of the Wilson Brothers Building, where it remained until moving across the street to the Armstrong Brothers Building on 3 January 1928.
The property was sold to Arthur W. Haskew and Hunter Pearson in 1933. Haskew was an early partner in the Big Four, a founder of the Farmers & Merchants State Bank in 1913, Burleson's first unofficial fire chief, and Mayor of Burleson from 1934 to 1938. Haskew and Pearson continued the hardware, lumber, and funerary business until Hunter Pearson moved to Cleburne in 1946, beginning the Crosier & Pearson Funeral Home. Haskew's son-in-law G.N. "Newt" Gamble joined the business after World War II. Upon Haskew's retirement in 1962, Newt Gamble moved the business into a newly-constructed structure next-door at 109 West Ellison Street.
Businesses which operated in the Wilson Brothers Building following the departure of Haskew & Gamble included Dickson's Furniture Store, Dalton's Corner, and Bailey's One Main Place. Sisters Beverly and Jana Volkman purchased the property in 2002 and remodeled the interior and exterior. The Volkman's operated "Between Sisters," a boutique and antique store, until leasing the building to Babe's Fried Chicken. A gift shop, Abernathy and Frittz, occupies the Ellison Street-side of the structure. The upstairs portion serves as an antique mall and party space.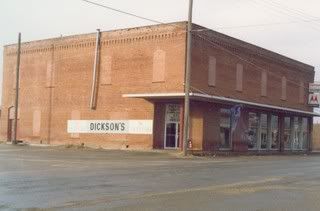 Dickson's Furniture, 1979
Photo Copyright Michelle Griffith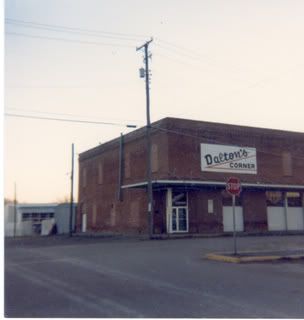 Dalton's Corner, Circa 1980s
Photo Copyright Michael H. Beard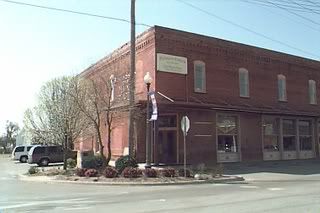 Between Sisters Circa 2002
Photo Copyright Robert Griffith
Bibliography
"$12,000 Fire at Burleson." Dallas Morning News 25 September 1909.
Beard, Michael H. "Wilson Bros. Building." Comp. Michael H. Beard. Burleson.
Burleson Historical Committee. Burleson - The First One Hundred Years. Dallas: Taylor Publishing, 1981.
"Conflagration at Burleson." Dallas Morning News 21 February 1895.
"Burleson and Her Business Men as appeared in The Burleson Banner." Burleson News 25 October 1945.
"Fires in Texas." Dallas Morning News 22 January 1902.
Johnson County History Book Committee. The History of Johnson County, Texas. Ed. Mollie Bradbury. Vol. I. Dallas: Curtis Media, 1985.
"New Lodge Organized." Dallas Morning News 27 April 1910.
Smotherman, Alicia Wilkerson. James Franklin Smotherman His Ancestors and Descendants. 2001.