Henry Carty Renfro
By Robert Griffith, January 2009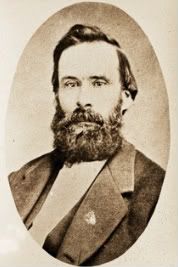 Henry Carty Renfro
From Burleson - The First One Hundred Years
Henry Carty Renfro is the father of Burleson, Texas. He owned the land which agents of the Missouri, Kansas & Texas Railroad procured in 1881. Renfro named the town for his mentor and friend, Reverend Rufus C. Burleson of Waco. Renfro never lived in Burleson, Texas. He died on March 2, 1885 after catching pnuemonia on a short cattle drive to Fort Worth with his son, James Burleson "Burlie" Renfro, son-in-law James Baker, and men from his ranch north of Alvarado, never to know whether the town he named would grow to any importance.
Quick Facts about Henry Renfro:
Early Life

Born July 18, 1831 near Maryville, Blount County, Tennessee the fifth son of Absalom Carter and Levicy Tipton
The Renfros settled in Cass County, Texas in June 1851 after a brief time in Georgia.
In 1853, H.C. Renfro enrolled at Baylor University, Indepdendence, Texas, to become a minister.
Studied under Rufus C. Burleson, R.E.B. Baylor, and George W. Baines, among other notable pioneer educators.
Served as pastor of the Independence Baptist Church in 1857.

First in Johnson County

First ventured to Johnson County, Texas in 1858 to visit his widowed sister Margaret.
Renfro's parents eventually moved to Johnson County, leaving him in charge of their farm in Cass County.
Eventually, however, Renfro sold the farm in Cass County and settled in Johnson County to be near his family.
Early organizer of the Bethesda Baptist Church in Johnson County.
Married Mary Robinson Ray of Johnson County, on November 24, 1859.
First child, James Burleson "Burlie" Renfro, born September 9, 1860.

Civil War Service

Enlisted in Company C, Griffin's 21st Texas Infantry at the outbreak of the Civil War.
Present to repulse the Federal attack on Galveston in 1862.
With the recommendation of Rufus Burleson, Renfro became the chaplain of Speight's Regiment, 15th Texas Infantry.
Fought in numerous battles in Texas, Louisiana, and Arkansas, including Battles of Bayou Bourbeau, Vidalia, Mansfield, Pleasant Hill, and Yellow Bayou.
Second child, Margaret Annette Renfro, born June 28, 1864.

Building Influence

After the War, Renfro's popularity as a minister grew with revivals in Alvarado, Mansfield, Fort Worth, and many points in-between.
Early leader in the Alvarado Association, a Baptist group his father Absalom helped to found in 1864.
Prospered as a cattle rancher and farmer, acquiring large amounts of land in north-central and northern Johnson County.
Invited into Lodge 266 of the Masonic Order (Grand View, Texas) in December 1867. Later, Renfro was a founder of the Royal Arch Masons, Number 132, Alvarado Chapter.
Also a member of the Patrons of Husbandry and Texas State Grange, agricultural-interest organizations in the 1870s.
Influential in state Baptist conventions during the 1870s as a representative from Alvarado and Johnson County.

Later Years and Death

Began questioning the divine inspiration of the Bible during the 1880s, leading to his removal from the Baptist Church.
In later years, Renfro's interpretations of the Bible were influenced by the works of Robert Ingersoll, Thomas Paine, and a friendship with the publisher of The Independent Pulpit, J.D. Shaw of Waco.
Longtime friend and mentor Rufus C. Burleson beseeched Renfro on numerous occasions to cast aside his "free thinking" beliefs and return to the Baptist Church.
Upon Renfro's death, Burleson agreed to preach Renfro's funeral, held March 8, 1885 in the Bethesda Baptist Church.
H.C. and Mary Renfro's only son, James Burleson Renfro, died on March 11, 1885 of the same probable pnemonia which killed his father. Rufus Burleson again returned to preach the funeral of his protegé's son.
Despite their long friendship and association, the posthumous biography of Rufus Burleson (The Life and Writings of Rufus C. Burleson) did not include a single mention of H.C. Renfro, likely due to Renfro's religious beliefs in his last years.
~~~~~
Fort Worth Gazette Obituary, March 3, 1885
Elder Renfro, as he was called, at one time was a prominent Baptist preacher in Johnson, Hill and Tarrant counties. His father was one of the pioneers of Johnson County and he entered the ministry when quite a young man. He conducted services in Fort Worth when the place was a mere hamlet and probably was known by almost every man in Tarrant County. He was about fifty years of age at his death and for the last few years of his life his religious view had undergone a change and he could probably have been classed among the "Free-thinkers." Those who know him in this city say he was a man of wonderful vitality and energy, and that he was universally liked and admired. He leaves considerable property and was always in easy circumstances. His remains will be taken to Johnson county on the south-bound train this morning, followed by his mourning wife and children.
~~~~~
Renfro Family Plot in Bethesda Cemetery
January 10, 2009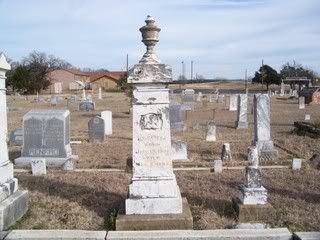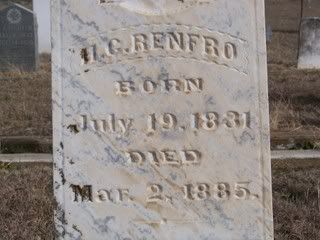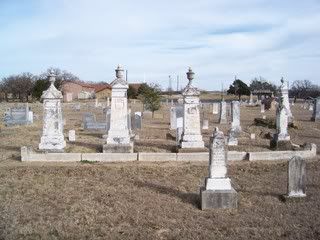 Bibliography
Burleson Historical Committee. Burleson - The First One Hundred Years. Dallas: Taylor Publishing, 1981.
Griggs, William Clark. Parson Henry Renfro: Free Thinking on the Texas Frontier. Austin: University of Texas Press, 1994.
Related Resources:
Handbook of Texas: Renfro, Henry Carty
Handbook of Texas: Burleson, Renfro Columbus