Mercer Grocery Various Locations, West Ellison Street By Robert Griffith, August 2008
From Written Materials and an Interview with Michelle (Mercer) Griffith
With Assistance and Additional Information from Doris Jo (Wood) Haas
Wilmer Mercer returned to Burleson in 1946 after World War II. Wilmer left the town of his birth following his high school graduation in 1924 and traveled across Texas, working at a bakery in McLean in the panhandle and with his younger brother Virgil at a hamburger stand in College Station in Central Texas before enlisting in the service in 1942. Too old for combat, Wilmer instead became a baker for the US Army, traveling to Australia with the 42nd General Hospital, then to Tokyo on the first hospital ship following the Japanese surrender. When he made his home in Burleson in 1946, he brought his Australian wife, Audrey Evans, whom he had married in Brisbane during the war.
Wilmer's older brother, Roy, gave him a place in his thriving grocery & feed concern, which the elder Mercer began on 1 September 1933 when he purchased a small food market from Jack Miller on West Ellison Street. Over the next decade, Roy Mercer moved his business into larger quarters, eventually into the present-day site of Ellison Street Interiors. Prior to Wilmer's homecoming, Roy Mercer had partnered with John Marti of the Oak Grove community, an arrangement which ended in 1945.
While Wilmer managed the grocery side of the business, his brother Roy met with success in the feed store, moving from a small store at the corner of Renfro & Main Streets to a larger facility at 126 West Ellison. The brothers amicably split the business in 1953, with Roy taking the feed store and Wilmer the grocery.
Wilmer & Audrey Mercer welcomed a daughter, Michelle Denise, in 1952. Michelle (Mercer) Griffith has many fond memories of growing up in Burleson, and begins her recollections with: "The grocery was next to the Farmers and Merchants State Bank, on the corner of Main and Ellison. It was a big old building, which was rather dark inside, or that's how it seemed to someone so young. A staircase led to a second-story where Daddy had a small office. I went to the bank with Mama around the corner. I enjoyed visiting with Mr. George Bransom, Sr., who always handed out packages of M&Ms."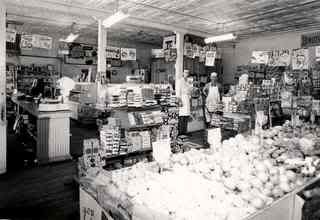 Mercer Grocery Prior to 1958
Photo Courtesy Michelle (Mercer) Griffith
Mercer Grocery enjoyed continuing success, and in 1958 Wilmer was looking to expand. Michelle explains: "Businessman W.N. Wood contracted with Dave Bloxom Construction of Fort Worth to build a new store for daddy, but Mr. Bloxom convinced Mr. Wood to build a shopping center, a new concept to Burleson." Burleson's first strip shopping center held a grand opening on 25 October 1958. Mercer Grocery anchored the west end. In the same year, the Farmers & Merchants State Bank moved to new quarters, ironically, just across the street from Mercer Grocery. As Michelle Griffith remembers, "Daddy used grocery carts from the new store to move the stock from the old store. The wooden counters from the old store came to our house, where they were put in the side yard for me and my friends to play with."
The new store had all the modern trappings. Michelle Griffith describes the store's modernity: "Daddy had metal shelving, glass cases, a meat market and produce department, and even two checkout stands. The floors were grey linoleum tile and at least one wall was pastel green."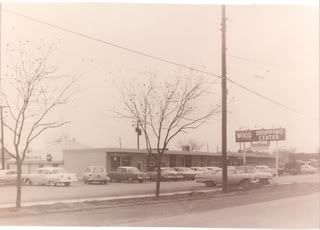 Wood Shopping Center in 1958
Photo Courtesy Doris Jo (Wood) Haas
Michelle recalls those her father traded with, including local growers, such as Richard Carlock, the Fort Worth Produce Company, Fort Worth Grocery Supply, and Ben E. Keith. Describing the store's meat offerings, Griffith says, "Daddy had an agreement with Newt Wood to buy cattle and hogs. Mr. Wood had been in the cattle business for years. He had land and a barn just outside Burleson. They kept them at his barn and fattened them up before they were taken to the Burleson Locker Plant to be slaughtered."
Not long after the new store opened, Wilmer Mercer suffered his first heart attack. As his daughter Michelle describes it, "After his heart attack, Mama spent more time at the store. She took over all the bookkeeping. Mama wrote letters and sometimes went to "collect" personally on hot checks. Every so often she would have to take the checks down to the district attorney's office in Cleburne so charges could be filed against those that had no intention of paying. Still, there were those who just needed help, and Daddy let some of them slide."
Mercer Grocery employed several local men and women, among them Jack Haynes, his main butcher, Bill Johnson, Milton Johnson, Bob Kinney, and cashiers Evelyn Wicker, Averyl Smith, Sue Owens, Inez Green, and Erma Sherrill. Mercer also hired high school boys to stock and sack groceries, including Ronald Ball, Gary Haas, Larry Ferguson, Danny Owen, and Bobby Dunham. Gary Haas was the grandson of the shopping center's owner, W.N. Wood.
In December, Wilmer and Audrey festooned the grocery store with garland, globe ornaments, and a Christmas Tree. Holiday music piped from a record player drifted through the store. A week before Christmas, they set up a little booth in the back aisle to serve cookies and coffee to the customers.
Describing her parent's worth ethic Michelle writes: "Mama and Daddy worked very hard. There was not a large profit margin in owning and operating a grocery store. The only day Daddy took off was Sunday, and there was only one vacation a year, always to the beach. To cut expenses, they mopped and waxed the floors themselves."
As the time neared to renew his lease, Wilmer Mercer decided the time had come to retire. Mercer Grocery closed its doors on 31 December 1968. The business was purchased in 1969 by Darrell Parks, and then sold to Richard Bransom and Pete Scott in 1971. From 1972 until 1975, Terry Melton owned the store, before Richard Bransom once again bought it and continued operation of the P&R Food Market until 1978.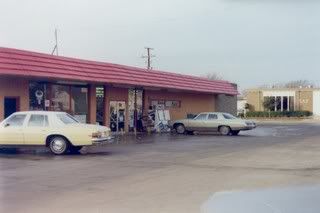 West end of Wood Shopping Center, 1979
Formerly Mercer Grocery
Photo Copyright Michelle Griffith
The two other buildings which housed Mercer Grocery have been home to many other businesses, including HIlley's Drug Store, Clampitt & Bransom Grocery, and Big Four Furniture & Appliance. Today, they are home to the Old Town Malt Shop and Ellison Street Interiors.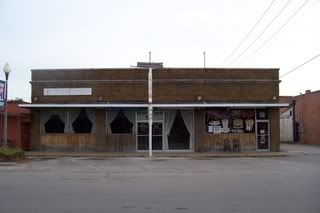 Old Town Malt Shop and the O.T. Corral, August 10, 2008
Photo Copyright Robert Griffith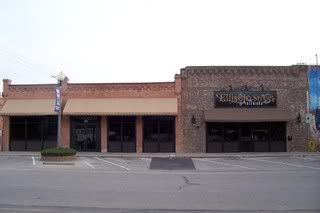 Ellison Street Interiors, August 10, 2008
Photo Copyright Robert Griffith
Wood Shopping Center has been home to dozens of family and locally-owned businesses during its first five decades, including Buck's Coin-o-Mat, Veta Bartlett's Beauty Shop, Jimmy McClung's Barber Shop, Pete McMakin's TV Repair Shop, White Auto, Grisso's Washeteria, and many more. The shopping center was expanded in 1960 to include four new storefronts.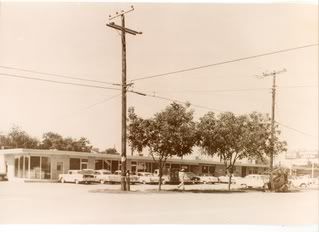 Wood Shopping Center in 1960
Photo Courtesy Doris Jo (Wood) Haas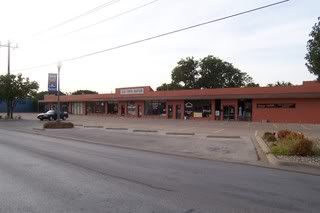 Old Town Shopping Center, August 10, 2008
Photo Copyright Robert Griffith
Besides opening Burleson's first shopping center, W.N. Wood had established himself as a discerning businessman, and he served his town ably as a member of the city council, school board, zoning board, trustee for the First United Methodist Church, and as Director of the Farmers & Merchants State Bank.
Wood was born on 24 October 1900 in the Union Hill community near Joshua in central Johnson County. Along with his wife Eunice Easter and daughter Doris Jo, they moved to Burleson in 1930 seeking a new start in the turmoil of the Great Depression. Newt and Eunice operated a barber shop from one half of their home on West Ellison Street. Newt then entered the cattle business, traveling to auctions and purchasing truckloads of cattle to haul to the Fort Worth Stockyards. Early in the 1940s, he purchased four lots on West Ellison Street from C.L. and Bernice Booth. Booth's Café occupied one lot, while the residences of Minnie Wicker and C.L. Booth, Jr. and his wife Vida occupied two others. These homes were moved or demolished when the Wood Shopping Center was constructed in 1958.
W.N. Wood died at age 91 in 1992, and his wife Eunice died in 1996. When the City of Burleson installed new curbs along Ellison in the mid-'90s, Newt and Eunice Wood's family had two markers placed in front of the shopping center to commemorate their lives and the businesses which began there. Their daughter Doris Jo (Wood) Haas continues the family creed of community service.