Burleson Locker Plant 101 East Renfro Street By Robert Griffith, September 2008
From its founding in 1881 until the 1950s, Burleson was an agricultural town. Fire ravaged much of the town's business block on 20 February 1895, and again on 21 January 1902. As reported on the Handbook of Texas Online, the population stood at 368 in 1904, before descending to 241 in the 1920s. By 1940, however, the population had more than doubled to 573. As a new generation of consumer goods reached Burleson and farmers and cattlemen enjoyed newfound prosperity, prominent citizens worked to bring new businesses, industries, and infrastructure to the thriving city. One of the most important, yet widely overloooked of these is the Burleson Locker Plant at 101 East Renfro Street, organized and operated by the Burleson Farmers Cooperative.
According to the 6 January 1944 edition of the Burleson News: "At a meeting last Tuesday night at the school house, Mr. Boles of the Coop Bank of Houston told a large group that the bank was willing to work with the local group in putting in a frozen locker system provided all requirements were met." One of those requirements was the rental of sixty-five lockers. A week later, the News stated: "Those of you who are interested in seeing a frozen food plant located in Burleson had better get busy and bring in more rentals or the opportunity is gone until after the war." Pushing the point, the News continued: "Don't wait-Get busy now." Over the next two weeks, 196 lockers were purchased by producers in Burleson and the vicinity. On 9 March 1944, the News carried news from the President of the Farmers Cooperative, Harold Warren, that Burleson needed to raise $6,000 in capital, with preferred stock set at $25 and common stock at $2.50 per share.
Two weeks later, the Burleso News reported: "Congressman Fritz Lanham wired Harold Warren, president of the Burleson Cooperative, last Friday that our application for a locker plant had favorably passed on to the War Production Board for it's approval." On 6 April 1944, the News, reporting on the approval of Burleson's application, noted: "Now, Burleson, it is strictly up to you. We might just as well face the facts, there will be no locker unless you are sufficiently interested to help pay for it." After a valiant effort by Harold Warren and Malcolm Scott, however, the $6,000 in capital had not been raised, and the contractor declined to continue the project. Over the next six months, boosters of the locker plant barnstormed Burleson, finally securing the needed funding. By 1 March 1945, the News gratefully reported: "You can start now pitching that hog an extra few ears of corn, if you have the corn, and start filling that beef for the kill, because it won't be long now."
With great pride, the Burleson News described the town's new locker plant on 8 March 1945: "The plant at present consists of the quick freeze box, locker room, cold storage or bulk storage room, curing room and a smoker room, and as soon as materials are available a slaughter room will be installed." Foreseeing success for the new venture, of the locker the News cautioned: "Officials have requested before you kill any meat, that you go to the plant first and see if the meat can be cared for. This will keep the plant from being flooded with meats to the extent that they might not be able to care for it."
Perhaps as a measure to cut costs, or simply because of its availability, the Locker Plant located in the building formerly occupied by the Thompson Motor Company. The structure was renovated to accompany the aforementioned services. The first manager employed at the Burleson Locker Plant was C.E. Collins, and Dewey Geeo was hired as his helper; Ida Fannin served as the plant's bookkeeper and helper. Later, "Brownie" Garrett succeeded Collins as manager. His son Charles "Duane" Garrett took over the plant in later years. In the last decade, the building has housed Tambert Homes & Design and The Sign Shop.
To help expand this article, please contact Robert Griffith.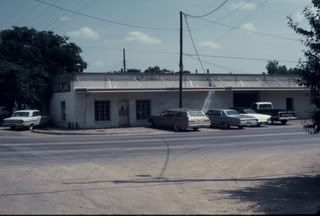 Burleson Locker Plant, 1973
Photographer Unknown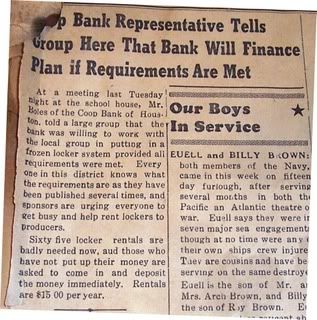 Top Bank Representative Tells Group
Here That Bank Will Finance Plan if
Requirements Are Met
6 January 1944 Burleson News
Free Coffee and Doughnuts to be Served
At Open House of Locker Plant Saturday
Night, 7:30 to 10:30
8 March 1945 Burleson News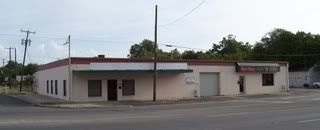 Locker Plant Building, August 10, 2008
Photo Copyright Robert Griffith
Bibliography
Burleson Historical Committee. Burleson - The First One Hundred Years. Dallas: Taylor Publishing, 1981.
"Conflagration at Burleson." Dallas Morning News 21 February 1895.
"Fires in Texas." Dallas Morning News 22 January 1902.
"Free Coffee and Doughnuts to be Served At Open House of Locker Plant Saturday." Burleson News 8 March 1945.
"Locker Rentals Needed Badly if Burleson Gets Chance at Plant." Burleson News 13 January 1944.
"196 Lockers Are Sold; Application for Approval Of Local Project Sent to Washington This Week." Burleson News 27 January 1944.
"Priority Order for Locker System Received; All We Need Now is Money for Stock." Burleson News 6 April 1944.
"Top Bank Representative Tells Group Here That Bank Will Finance Plan if Requirements Are Met." Burleson News 6 January 1944.
"You Are Requested to Attend Open House of Locker Plant Saturday Night, March 10." Burleson News 1 March 1945.