Lace Drug Store Building
102 South Main Street
By Robert Griffith, October 2008
General Grenville Mellen Dodge sold lot 2 of block 3 on 6 January 1882 to J.W. McCabe. McCabe became Burleson's third Postmaster in 1883, and according to historian Michael H. Beard, McCabe "operated a beverage house of sorts on this premises." It is likely McCabe's original building was destroyed by a fire which swept Burleson on 20 February 1895. The wooden false-front building to take its place was sold to W.A. Stewart, who sold them to W.P. "Bill" Lace on 11 October 1898.
William Parker Lace was raised in Marystown south of Burleson and educated as a pharmacist before coming to Burleson around 1893. In the 21 June 1895 issue of The Burleson Banner, Lace is described as "a whole-souled jolly fellow." He was appointed Burleson's Postmaster in 1897. On lot 2, Lace opened the W.P. Lace Drug Company. When fire again struck the town on 21 January 1902, claiming his drug store, Lace was the first to rebuild in brick.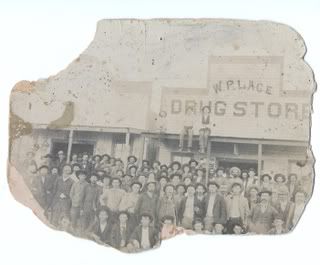 W.P. Lace Drug Store Prior to 1902
Photograph Courtesy Mary Ruth Arnold
On 11 December 1903, the Dallas Morning News reported on a burglary of Lace's business: "Postmaster W.P. Lace's safe was blown open last night by cracksmen and about $200 worth of postage stamps and about $100 to $200 of money [was taken]. The drawers of the safe and a quantity of papers, paid money orders and other documents worthless to any one were found in the outskirts of town."
In 1910, W.P. Lace became Burleson's first mayor, a role he retained until Burleson voted to incorporate in May 1912; in 1923, he was reelected mayor. With titles of Postmaster and Mayor, Lace decided to sell the drugstore to his brother-in-law, pharmacist L.H. Rudd, who operated "Rudd & Son Drug Store." Bill Lace died unexpectedly in 1926, and his wife Catherine "Kittie" Lace became Burleson's First Postmistress.
Kittie Lace's successor, A.H. Loyless, moved the Post Office to his drug store on Ellison Street in 1935, where it remained until his retirement in 1954. The new Postmaster, David Scott, turned to Kittie Lace, and she graciously offered her building for use as the Post Office once more. A new building was constructed by 1956 when Loren Turner became Postmaster, and Burleson's Post Office left Main Street for the last time.
Upon Kittie Lace's death in 1959, lot 2 became the property of her son, W.T. Lace of Fort Worth. He passed the lot to his niece, Elinor (Lace) Chamberlain Laurin. According to historian Michael H. Beard: "Since leaving the Lace family's possession, the building has remained active in the downtown business community as a variety of different ventures including a real estate firm, a gift shop, an antique store, a party and event host facility, and even a church." A 1967 35mm slide shows the building occupied by Bransom's, a separate firm from Clampitt & Bransom at the other end of the block. In 1979, Burleson Heating & Cooling occupied the space. During the 1980s and well into the '90s, Napa Auto Parts occupied the building. Like others on Main Street, the Lace Drug Store sat vacant for some time between tenants, finally achieving renewal as Downtown Burleson reinvented itself in the late 1990s.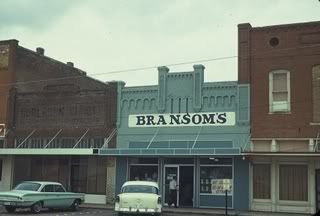 Bransom's Grocery, 1967
Photographer Unknown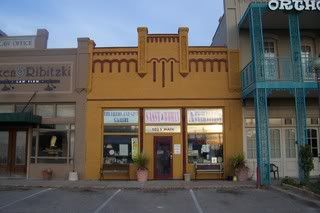 A Perfect Fit Alterations, August 10, 2008
Photograph Copyright Robert Griffith
Online Resources
A Lace Family in America, compiled by Charlotte Schaper.
Bibliography
Beard, Michael H. "Lace Drugstore Building." Comp. Michael H. Beard. Burleson.
Burleson Historical Committee. Burleson - The First One Hundred Years. Dallas: Taylor Publishing, 1981.
"Conflagration at Burleson." Dallas Morning News 21 February 1895.
"Burglars at Burleson." Dallas Morning News 11 December 1903.
"Burleson and Her Business Men as appeared in The Burleson Banner." Burleson News 25 October 1945.
"Fires in Texas." Dallas Morning News 22 January 1902.