Brister-Overton Dry Goods Company Building
104 South Main Street
By Robert Griffith, Updated March 2009
Reverend Henry C. Renfro sold lot 3 on block 3 to S.R. Bockmon on 14 January 1883. Bockmon operated a wooden false-front business house on the property. This structure or its successor, valued at $250, perished in the fire which engulfed the business district on 20 February 1895. On 24 March 1902, Bockmon sold Lot 3 to George Washington Bransom, who owned lot 1 on the same block. Bockmon and Bransom suffered losses after a second disastrous fire swept downtown on 21 January 1902, again claiming most of the businesses in its path. According to historian Michael H. Beard: "Evidence suggests that G.W. Bransom built this present day brick building on the property before selling it to L.D. Chisenhall on May 21, 1903." L.D. Chisenhall's son Martin B. was cashier of the Farmers & Merchants State Bank upon its incorporation in 1913 and president of the Burleson Mill and Elevator Company. L.D. Chisenhall turned the property over to Mr. A.G. Borah, Sr. on 17 March 1905. Borah then sold the lot to D.I. Murphey on 14 September 1905, although records suggest Murphey passed the land back to A.G. Borah later on.
Brister & Overton Dry Goods Prior to 1915
Photo Courtesy Mary Ruth Arnold
The Burleson News printed the above photo on September 8, 1960. School Superintendant J.W. Norwood identified the men, left to right, as:
W.L. Russell, W.H. Haynes, Jim Scott, Guy Brister, Claude Overton, Glenn Martin, Bob Griffith, unknown, Charley Hackney, J.W. Norwood, Chet Caffey,
unknown, unknown, unknown, & unknown.
On 12 January 1915, burglars set fire to the Brister-Lee Dry Goods Company, owned by G.C. Brister and R.C. Lee. Mrs. A.G. Borah inherited the building from her husband, who died fighting a blaze in his barn ignited by a lightning storm. According to the Dallas Morning News, "The fire started just before sunrise and all of the Burleson inhabitants got out of bed to see it. Fifty men formed a bucket brigade and endeavored to check the flames without success. The bucket line fed from a well 200 yards away. […] The fire was discovered and the alarm spread by W.T. (sic) Lace, the postmaster." Lace sustained losses in the fires in 1895 and 1902.
Main Street, 1979
Photo Copyright Michelle Griffith
Main Street, Circa 1980s
Photo Copyright Michael H. Beard
The ornate façade of the building was not replaced, as evident by the simpler face on the structure. The structure housed a variety store in the 1950s, but for several years it, like other buildings on Main Street, sat vacant and in disrepair. Fidelity National Title Company located there around 2002. The law firm of Shetter, McNeil & Barlow brought new life to the building under owners Charles and Beverly Powell. Today, the building is home to the Aiken & Ribitzki Law Firm. The 1915 arson which claimed Brister-Lee Dry Goods was the last major blaze to strike Downtown Burleson.
Fidelity National Title, Circa 1999-2002
Photo Copyright Robert Griffith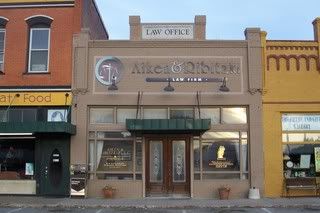 Aiken & Ribitzki Law Firm, August 10, 2008
Photo Copyright Robert Griffith
Bibliography
Beard, Michael H. "Brister-Overton Dry Goods Building." Comp. Michael H. Beard. Burleson.
Burleson Historical Committee. Burleson - The First One Hundred Years. Dallas: Taylor Publishing, 1981.
"Burglars Start Burleson Fire." Dallas Morning News 13 January 1915.
"Conflagration at Burleson." Dallas Morning News 21 February 1895.
"Drops Dead During Storm." Dallas Morning News 26 July 1914.
"New Bank at Burleson." Dallas Morning News 11 October 1913.