Armstrong Brothers Building
114 South Main Street
By Robert Griffith, Updated January 2010
Businessman P.H. Goodloe purchased lots 7, 8, 9 & 10 in block 3 from G.M. Dodge on 23 February 1883, putting Goodloe within whistling distance of the railroad depot on Front Street. Goodloe relocated his general store from Caddo Grove, a village which sprang up in 1869 on the western toe of Caddo Peak and disappeared when the town of Joshua was established on the Gulf, Colorado & Santa Fe Railroad in 1881. Goodloe operated at this location until brothers Samuel "Sam" & Robert B. Armstrong bought the property from him on 29 January 1892. Goodloe moved his store into his brother H.C. Goodloe's grocery across the street. Historian Michael H. Beard notes, "The sale included a two-story wooden false-front business house, a stove house, a rail side grainery, fixed cotton scales, and platform scales, also near the railroad tracks." Sam and R.B. Armstrong utilized the entire property in their business, Armstrong Bros. General Mercantile Store, even purchasing an additional lot, number 6, to the north.
A tragic fire claimed "almost the entire business portion" of Burleson on 20 February 1895. In the Dallas Morning News on 21 February, the newspaper does not list the Armstrong's store as a loss. Whether the Armstrongs shared in the losses of G.W. Dobson, W.P. Lace, and A.W. Overton is not clear, but the fire did not detour Burleson's growth.
Armstrong Brothers was the scene of several infamous robberies. On 15 August 1900, the Dallas Morning News reported several items, including hats, underwear, and suspenders, were stolen from the store. The business put up a fifteen dollar reward. Then on 5 November 1901, the Dallas Morning News reported: "Two burglars entered Armstrong Bros.' store last night about 1 o'clock. Messrs. Branson (sic) and Overton, who compose the night watch, had previously suspected their movements and made ready to capture them. They, with Mr. Armstrong, ran in on the burglars just as they were making preparations to drill the safe. One of them ran and was shot at several times but made his escape. The other surrendered without making any resistance. […] Bloodhounds were sent for and an effort was made today to capture the one who escaped, but the dogs could not keep the track."
Then on the evening of 21 January 1902, fire again struck Burleson. The Dallas Morning News does not mention the Armstrongs, although W.P. Lace, among others, again lost their stores.
In 1903, Charles C. Taylor and Robert L. Norwood—Burleson businessmen since 1899—joined with Sam and R.B. Armstrong to become Armstrong, Norwood, and Taylor. As Jack Taylor, son of Charles Taylor remembers: "Someone would say, "I've got to go to Armstrong, Norwood and Taylor, and someone else would respond, "Oh, you mean the big four?" Well, before long Daddy and the others heard about it and decided that Big Four would be a pretty good name." In 1908, Norwood departed for Abilene and the Armstrongs left the business, retaining their brick building on the corner of Front (Main) and Ellison Streets. A.W. Haskew and Charles Taylor's brother Walter entered into "the Big Four" in 1913.
The structure housed the Taylor Brothers Cash Store in 1910. The Continental State Bank, which constructed the brick building at the northernmost corner of the Front Street business block, relocated to the southernmost corner during or after its reorganization in 1911. Then on 3 January 1928, the Farmers & Merchants State Bank purchased Continental National Bank and moved into the building. Many Burleson notables were involved with the F & M State Bank, including Charles C. Taylor, Martin B. Chisenhall, Arthur W. Haskew, Frank B. Duringer, Robert Newton Warren, and James F. Dunn. One of the bank's enduring figures was George E. Bransom, Sr., who served as President from 1932 to 1965; generations of residents remember him handing out M&Ms to children who visited the bank.
An often-told local tale has it that Bonnie Parker & Clyde Barrow had designs on robbing the F & M State Bank during their murderous crime spree in 1933. George E. Bransom, Sr., anticipating trouble, posted two armed men at opposite sides of the teller cages to ward off an attack. Seeing this, the gang decided the heist was not worth it. Another tale has it that Bonnie & Clyde stopped for lunch at the Toastry Café one block east of the bank. Whether these accounts are true is unknown.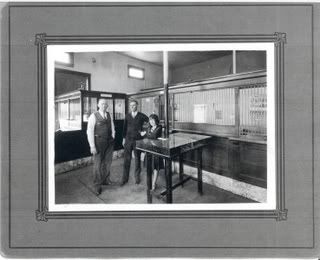 Farmers & Merchants State Bank in 1928
George E. Bransom, Sr. pictured at left
Photo Courtesy Mary Ruth Arnold
The F & M State Bank moved into modern quarters at 201 West Ellison Street on 17 January 1959. Fort Worth businessmen Walton Clampitt and Loy Bransom leased the building and the structure behind it. Clampitt & Bransom opened a food store on 23 February 1959 in the Ellison Street storefront. On the Main Street side, Loy Bransom operated a variety store. When Clampitt & Bransom moved to 200 East Renfro Street in 1967, the partners opened a Western Auto store.
H. Walton Baker, great-grandson of Reverend Henry C. Renfro, founder of Burleson, purchased the property in 1970. A series of small businesses, including the Burleson Floor Company and Robert's Discount Store occupied the structure until 1994 when Delbert and DeAnn Odom remodeled the building to serve as Odom's Old Town Smokehouse. The Odoms served up some of the best BBQ in Burleson until their retirement in 2009. Under their care, the Smokehouse became a centerpiece of a reawakened Downtown. They cared for the old building, keeping the original tin awning in front and making repairs to the Ellison Street-side of the structure after an unfortunate drive-thru incident in mid-2008.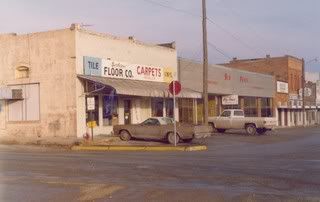 Main Street, 1979
Photo Copyright Michelle Griffith
Robert's Discount Variety Ca. 1980s
Photo Copyright Michael H. Beard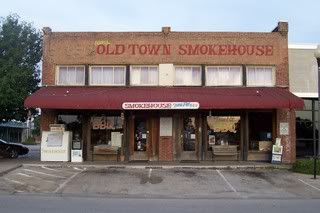 Odom's Old Town Smokehouse, August 10, 2008
Photo Copyright Robert Griffith
Bibliography
A Memorial and Biographical History of Johnson and Hill Counties. Chicago: Lewis Publishing Company, 1892.
"Bank Moves Into Beautiful New Building." Burleson Dispatcher 22 January 1959.
Beard, Michael H. "Taylor Bros. Building." Comp. Michael H. Beard. Burleson.
Burleson Historical Committee. Burleson - The First One Hundred Years. Dallas: Taylor Publishing, 1981.
"Clampit & Bransom Food Stores Opens Modern Store On W. Ellison." Burleson Dispatcher 5 March 1959.
"Conflagration at Burleson." Dallas Morning News 21 February 1895.
"Burleson and Her Business Men as appeared in The Burleson Banner." Burleson News 25 October 1945.
"Fires in Texas." Dallas Morning News 22 January 1902.
Johnson County History Book Committee. The History of Johnson County, Texas. Ed. Mollie Bradbury. Vol. I. Dallas: Curtis Media, 1985.